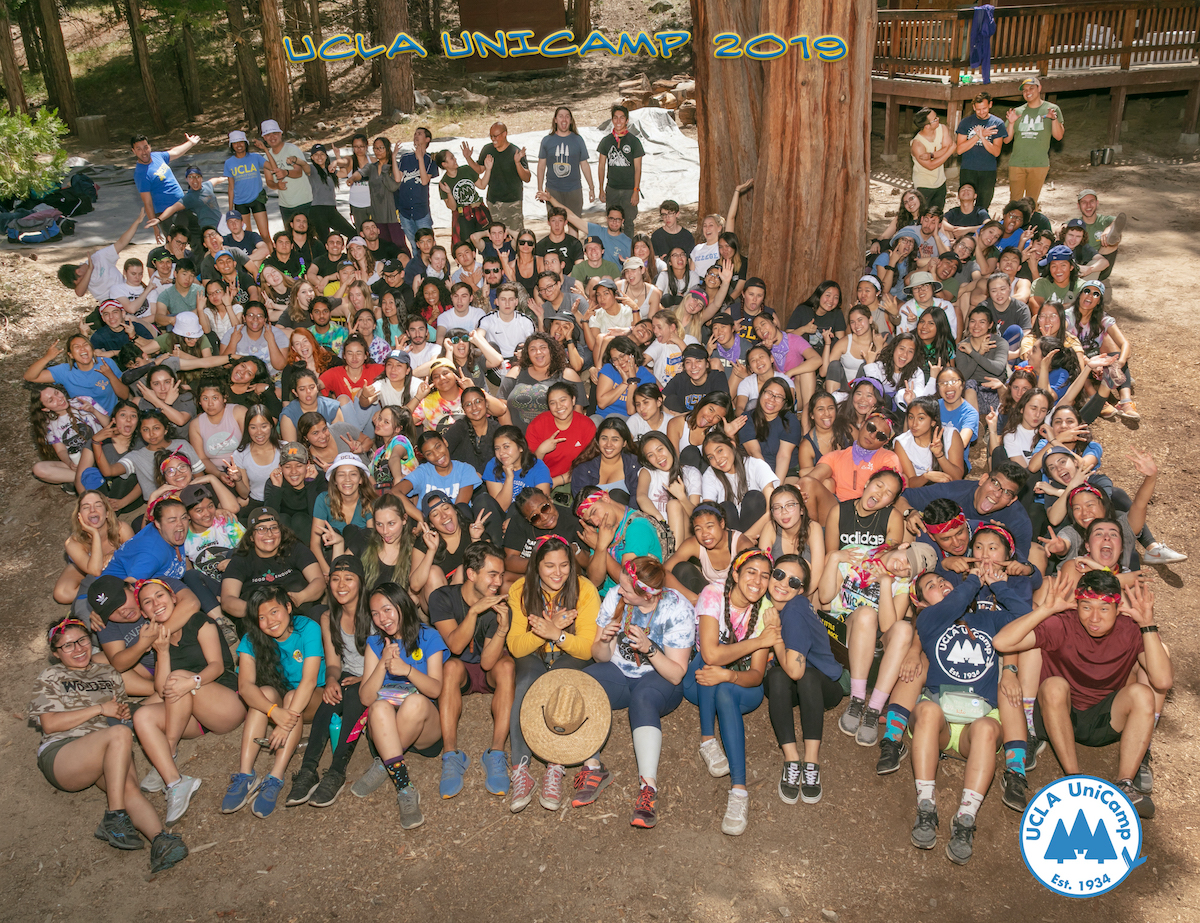 Volunteer with UCLA UniCamp's ATL Program
Be part of UCLA's official student charity, a student tradition since 1934, and apply to volunteer as a UCLA UniCamp counselor for our 2023 camp season! Mentor and inspire kids from underserved communities and give back for one week this summer, all while making new friends at UCLA!

The Accelerated Transfer Leadership (ATL) program encourages all incoming and continue transfer students to apply!
Role Description
Volunteers have the most important role at camp: they work directly with the campers in small ratios to create a magical experience. You will be sorted into a session and will train with your co-counselor(s) through a week over the summer to build the mentorship and leadership skills you'll need to be an amazing counselor. Your responsibilities include:
Attending all ATL training meetings and your week of camp dates (listed below: you'll be sorted into one session).
Building relationships with fellow volunteers to create a supportive camp community
Supervising campers, ages 9-17, keeping safety as a top priority and giving them opportunities to grow and have fun
Building supportive, mentoring relationships with campers
Envisioning, planning, and executing activities for small groups of campers under guidance from your session's student leadership team
If chosen as a Specialist, learning about one activity and leading it at camp for the week. Activities include swimming, climbing, arts & crafts, archery, dance, mountain biking, and more. Training is provided!
Identifying and responding empathetically to camper behaviors
Meeting a $200 fundraising goal. Support and training is provided!
Session
Session Dates
First day is pre-session training
1
UCLA Community School*
June 23-30
2
The Village Session**
July 8-15
3
July 14-22
4
July 21-29
5
July 28 – August 5
6
August 4-11
* The UCLA Community School Session is a session partnered with Horace Mann UCLA Community School. Volunteers will work with faculty and staff from Mann to run a week of camp focused on social and emotional learning.
** The Village Session is partnered with The Village Nation. The week of camp empowers Black American youth to achieve their full potential by providing them with guidance from elders, resources for success, and immersing them in African culture. Campers and volunteers from all ethnic backgrounds are welcome.
What is the Accelerated Transfer Leadership (ATL) Program?
Equity
With only 2 years at UCLA, transfers may feel like they are "behind" on participating in service leadership activities while having to adjust to a new environment with rigorous academic demands. ATL aims to help even the playing field by holding a week-long intensive training program that allows new transfers to volunteer with UCLA UniCamp the summer before they enter UCLA.
Leadership
Each year, more than 30% of the ATL class end up serving a leadership role in UniCamp beginning in the Fall of the academic year. Since UniCamp requires one year (one session) of volunteer experience to apply for leadership positions, ATL makes this possible for new transfers since they did not get to join UniCamp during the previous Winter quarter like other volunteers.
Community
Social support plays a huge part of the transfers' adjustment in a new environment. ATL connects incoming transfers to current UCLA students, UCLA's transfer resources, alumni, and the greater UCLA community. During training, volunteers will be closely interacting with other new transfers under the guidance of the student leadership team. Once volunteers are divided and sent up to join various camp sessions, they will be working with other UCLA volunteers that joined UniCamp during the school year. Volunteers will be part of a community of support that they can lean on once they enter UCLA after networking with upwards to a 100 other UCLA students.
Requirements to apply:
Be a continuing or incoming transfer student to UCLA
Pass a criminal history background check and reference check
Have a passion for working with kids and being outdoors
Meet all the essential functions to be a UniCamp volunteer (listed below)
Be at least 18 years old and are no longer in high school when you apply
Be willing to agree to a conduct agreement to make sure UniCamp is a safe place for all
Have a passion for working with kids and being outdoors
Ability to communicate in English
Ability to navigate on dirt or mulch trails. Our campsite is in a national forest and all the roads/trails are unpaved.
Please contact us if you're unsure if you're eligible or to discuss accommodations.
Essential functions to be a UniCamp volunteer
Able to traverse UniCamp trails/paths (including dirt trails with slopes/rocks)
Able to interact with and supervise campers in an outdoor environment 24 hours a day over a 6-8 day period
Able to foster a wholesome and supportive environment in which campers can express their individuality and experience success
Able to maintain a positive example for the campers
Able to understand and follow UniCamp rules and schedules with minimal supervision
Able to manage time off appropriately and without direct supervision
Able to fulfill duties in the mountain climate (which can range from 40º-100ºF in rain and sunshine)
Interview Process
Step 1
Step 2
The ATL leadership team will reach out to you to schedule a virtual interview or ask for more information
Step 3
If accepted, ATL leadership will invite you to the first meeting (TBD)
UniCamp operates with a continuous interview process after you are initially accepted. Your leadership team will be working with you throughout the training process to make sure you are developing the skills required to be a great camp counselor.
QUESTIONS?
Anything else?
If you have any other questions or concerns, please email us at atl@unicamp.org, send us a message on Instagram, or come to an info session (dates above!).
We look forward to receiving your application!