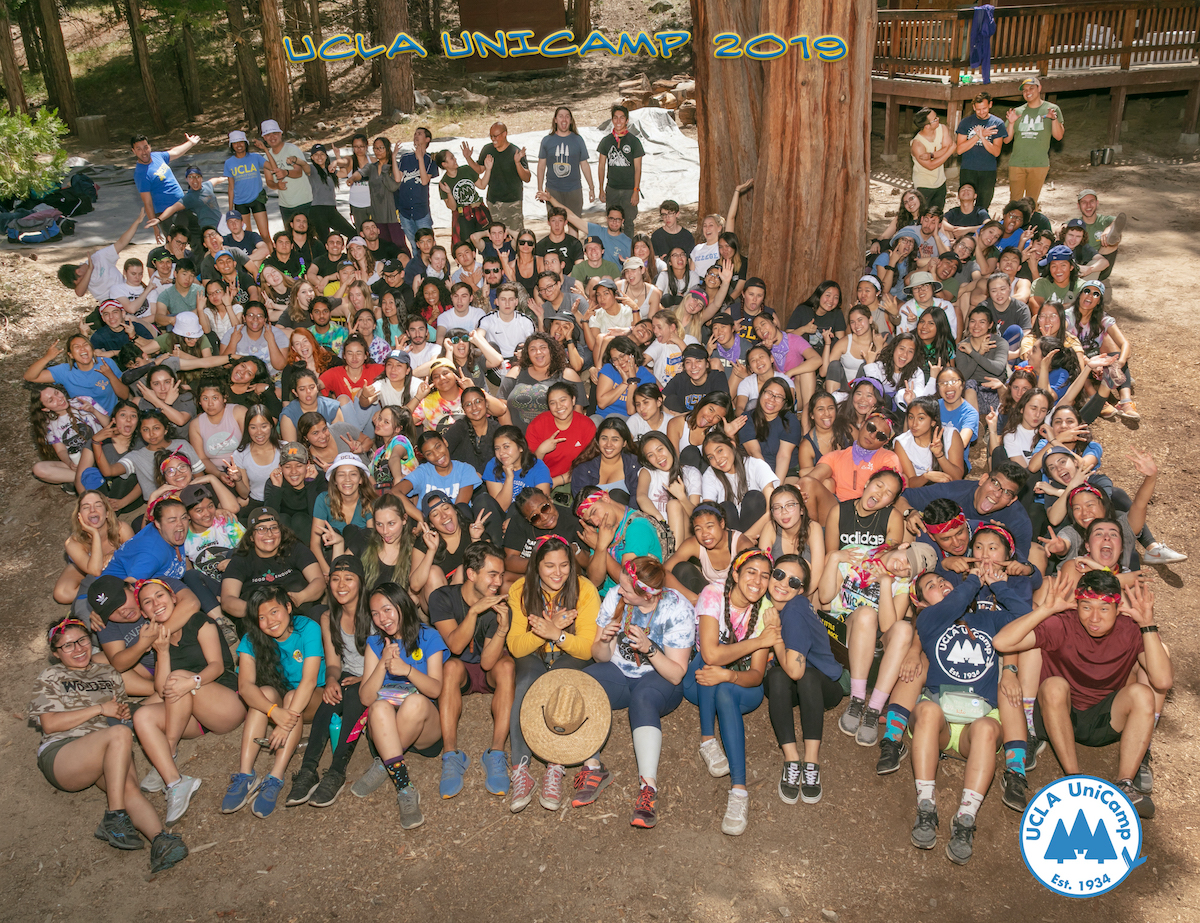 Volunteer with UCLA UniCamp
Applications for the 2020-2021 academic year will be released in Winter Quarter. Click here to learn more
Be part of UCLA's official student charity, a student tradition since 1934, and apply to volunteer as a UCLA UniCamp counselor for our 2020 camp season! Mentor and inspire kids from underserved communities and give back for one week this summer, all while making new friends throughout the school year and having fun!

Applications are typically released in early January each year
Role Description (2020)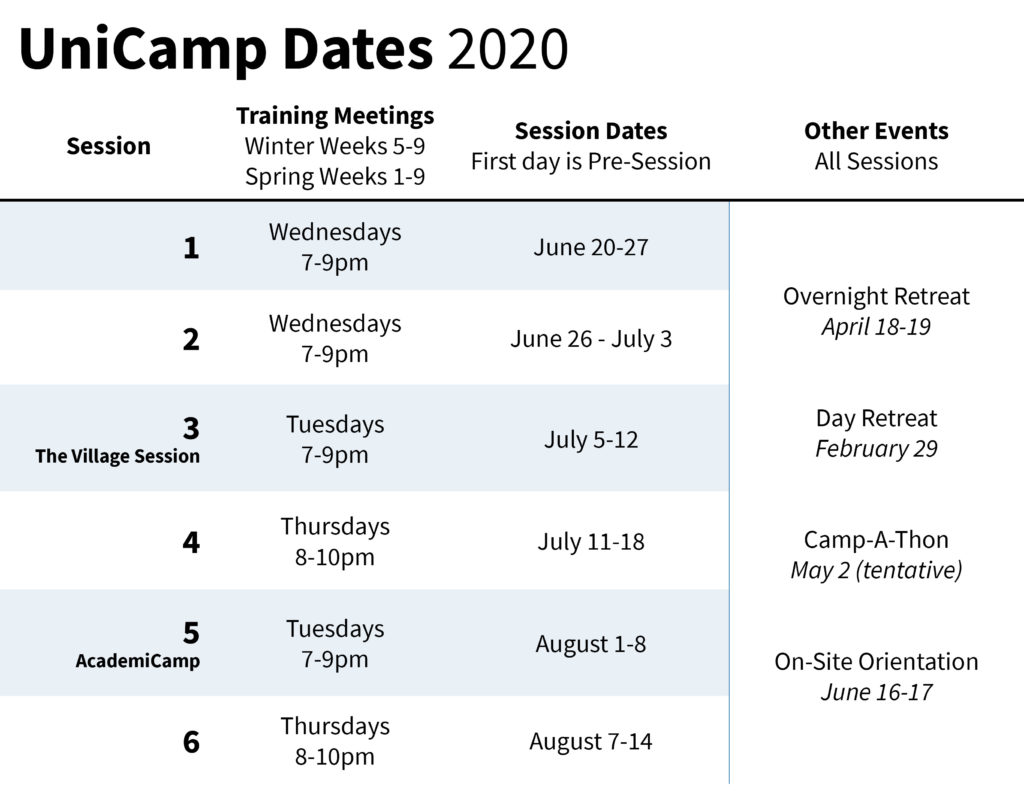 Update (1/14/20): Training meetings start in Week 5 of Winter Quarter and retreats for all sessions are April 18-19. The original version of this table was incorrect. Email ccpds@unicamp.org if you have any questions. Thanks!
Volunteers have the most important role at camp: they work directly with the campers in small ratios to create a magical experience. You will be sorted into a session and will train with your co-counselor(s) through winter and spring quarter to build the mentorship and leadership skills you'll need to be an amazing counselor. Your responsibilities include:
Attending all training meetings and events (dates listed below)
Building relationships with fellow volunteers to create a supportive camp community
Supervising campers, ages 10-14, keeping safety as a top priority and giving them opportunities to grow and have fun
Building supportive, mentoring relationships with campers
Envisioning, planning, and executing activities for small groups of campers under guidance from your session's student leadership team
If chosen as a Specialist, learning about one activity and leading it at camp for the week. Activities include swimming, climbing, arts & crafts, archery, dance, mountain biking, and more. Training is provided!
Identifying and responding empathetically to camper behaviors
Meeting a $450 fundraising goal (support and training is provided)
Requirements:
Be a UCLA student, past camper, or past volunteer
Pass a criminal history background check
Have a passion for working with kids and being outdoors
AcademiCamp is a session partnered with Horace Mann UCLA Community School. Volunteers will work with faculty and staff from Mann to run a week of camp focused on social and emotional learning.
The Village Session is partnered with The Village Nation. The week of camp empowers Black American youth to achieve their full potential by providing them with guidance from elders, resources for success, and immersing them in African culture. Campers from all ethnic backgrounds are welcome.
This error message is only visible to WordPress admins
Error: There is no connected account for the user 289799103 Feed will not update.
Interview Process (2020)
Step 1
Step 2
A leadership team from one of your preferred sessions will reach out to you to schedule an interview or ask for more information
Step 3
If accepted, your session's leadership team will invite you to the first meeting (Winter Week 5)
UniCamp operates with a continuous interview process after you are initially accepted. Your leadership team will be working with you throughout the training process to make sure you are developing the skills required to be a great camp counselor.
QUESTIONS? (2020)
Who is eligible to apply? To volunteer with UCLA UniCamp, you must be at least 18 years old by June 16, 2020. In addition, you must be either a UCLA student or former UniCamp volunteer/camper (former campers must have finished high school by January 1, 2020).
What is the time commitment? During the school year: roughly 2 hours per week plus two all-day weekend events. Events are not held during 10th week or finals week. You will attend your one week of camp during summer.
What if I am unsure of my summer plans? Don't worry! It's early on in the school year and we know you may still be thinking about internships, jobs, or summer school. Many internships can work with you, especially for the first few sessions of the summer. Just write a note on your application about your summer plans and we can work with you.
Do I need experience as a camp counselor? Nope! We provide all the training needed, based on American Camp Association standards. Depending on the roles you select, you can also learn about lifeguarding, archery, mountain biking, belaying, and more. You will also learn from professionals about topics specific to your session's population. At camp, you will work in teams others close by if you need help.
Will I have help fundraising? Yes! During training, you'll learn how to fundraise. There are also some organized events on- and off-campus that can help you meet your fundraising goal.
What if I have more questions? If you have any further questions, please email us at ccpds@unicamp.org, come to an info session, or stop by on Bruinwalk during weeks 1–2!

Anything else?
Email the Classic Camp Program Directors at ccpds@unicamp.org if you have any questions or concerns. Learn more about UCLA UniCamp on this website. We look forward to receiving your application!